The Alberto Corral and Novoa & Pardo studios we find a very attractive hillside overlooking the sea, but very difficult to occupy. As it has such a steep slope, it is difficult to settle each volume and plan the circulations that give access to all of them.
The land where you want to settle this tourist complex is delimited in the upper part by a coastal road and in the lower part by a pedestrian walkway on the edge of the sea.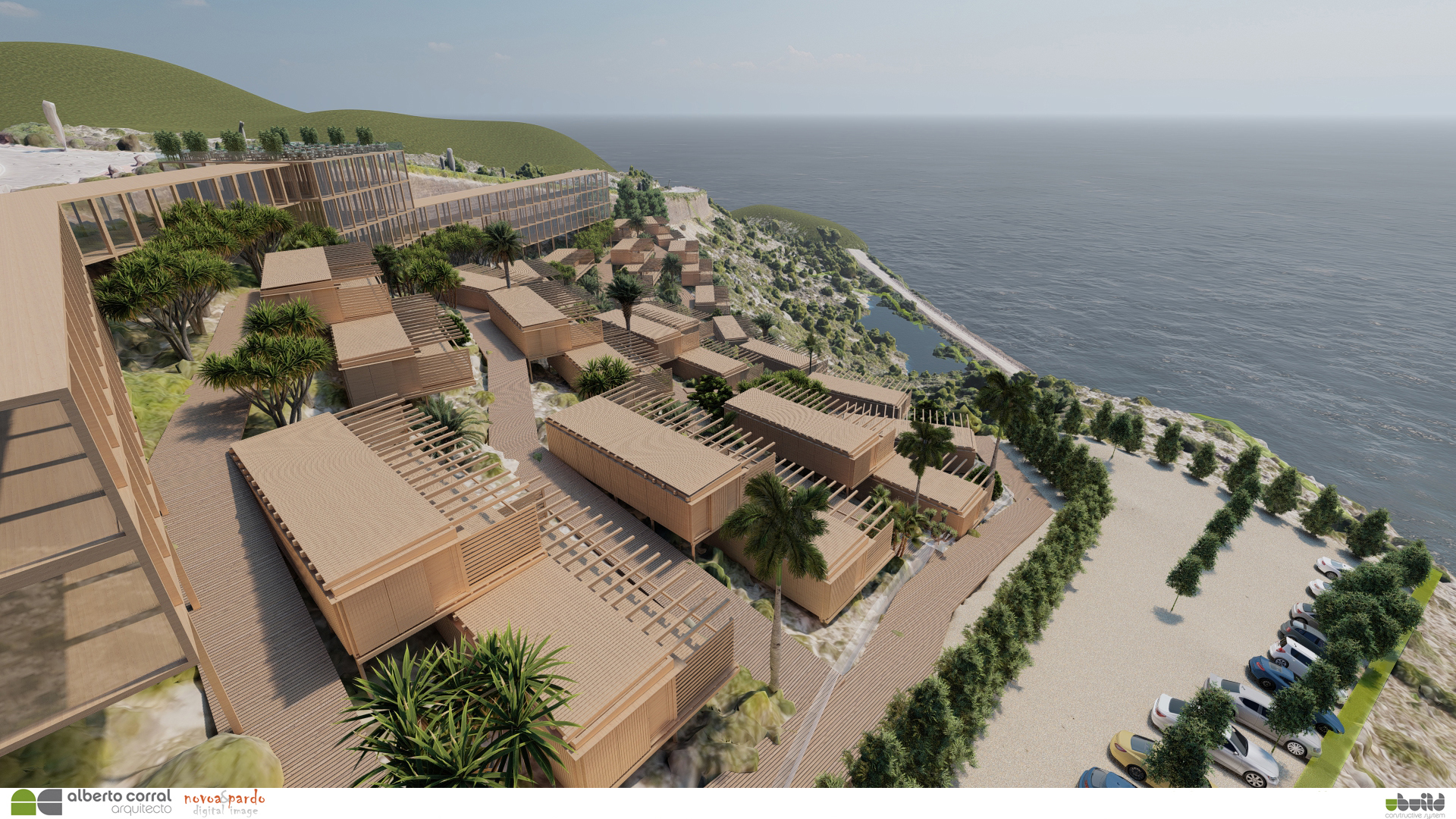 At the top is the main building that is accessed from the road, and which sits at a height that does not impede sea views for people who are circulating along the coast.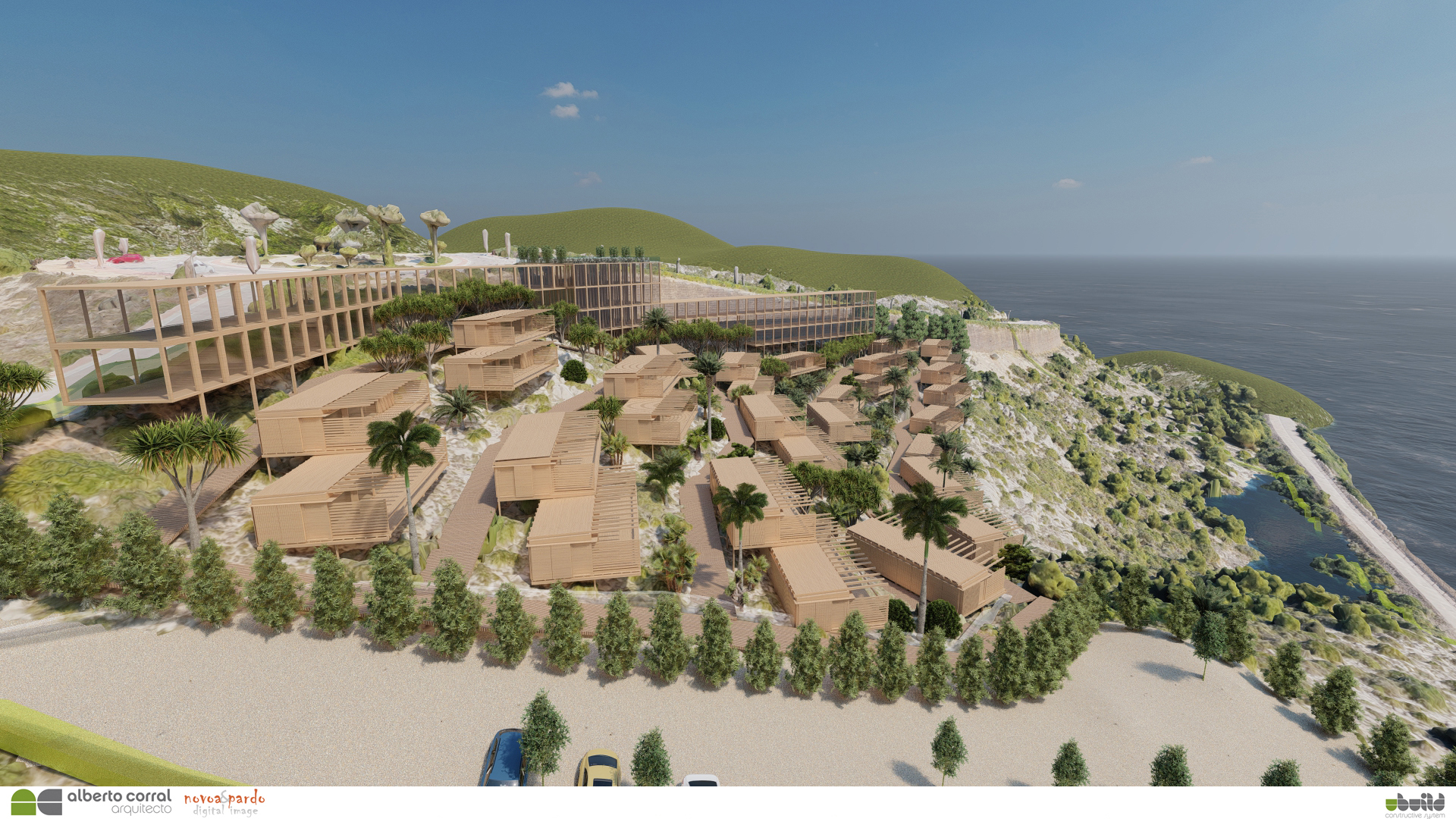 The main building would house collective uses such as reception, cafeteria, restaurant, gym, meeting rooms, as well as numerous rooms. This tourist offer would be completed with a series of individual cabins, located in the steepest area. An area of the plot that coincides with the level of the road is used to place the parking lot of the clients of the tourist complex and who access their cabins directly.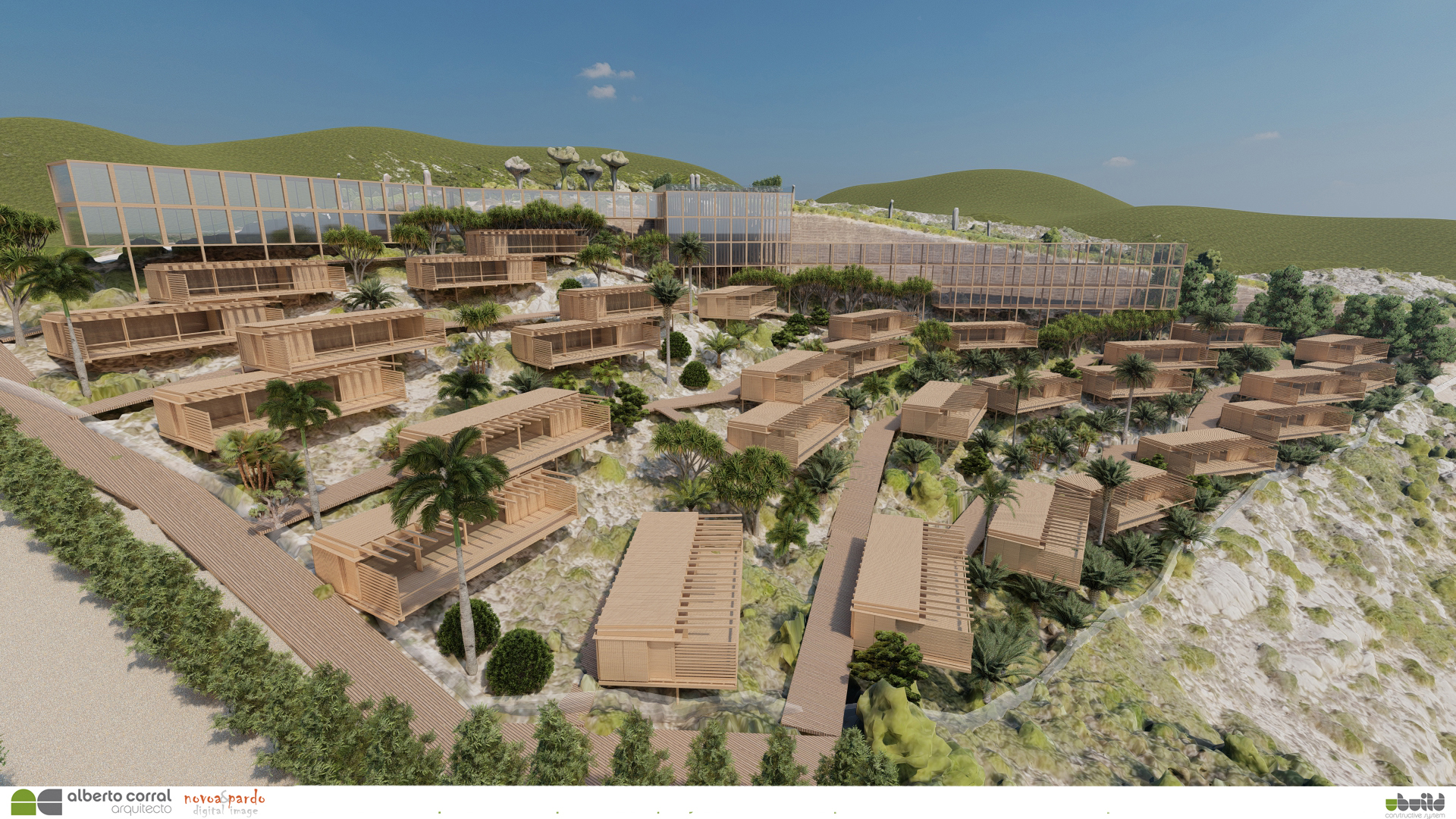 Circulations on the hillside are carried out by means of wooden paths that are raised on the ground, not touching it at any time. These roads would be used to bring urban facilities below them without the need to make any channel on the ground and being able to access the facilities directly in case of need.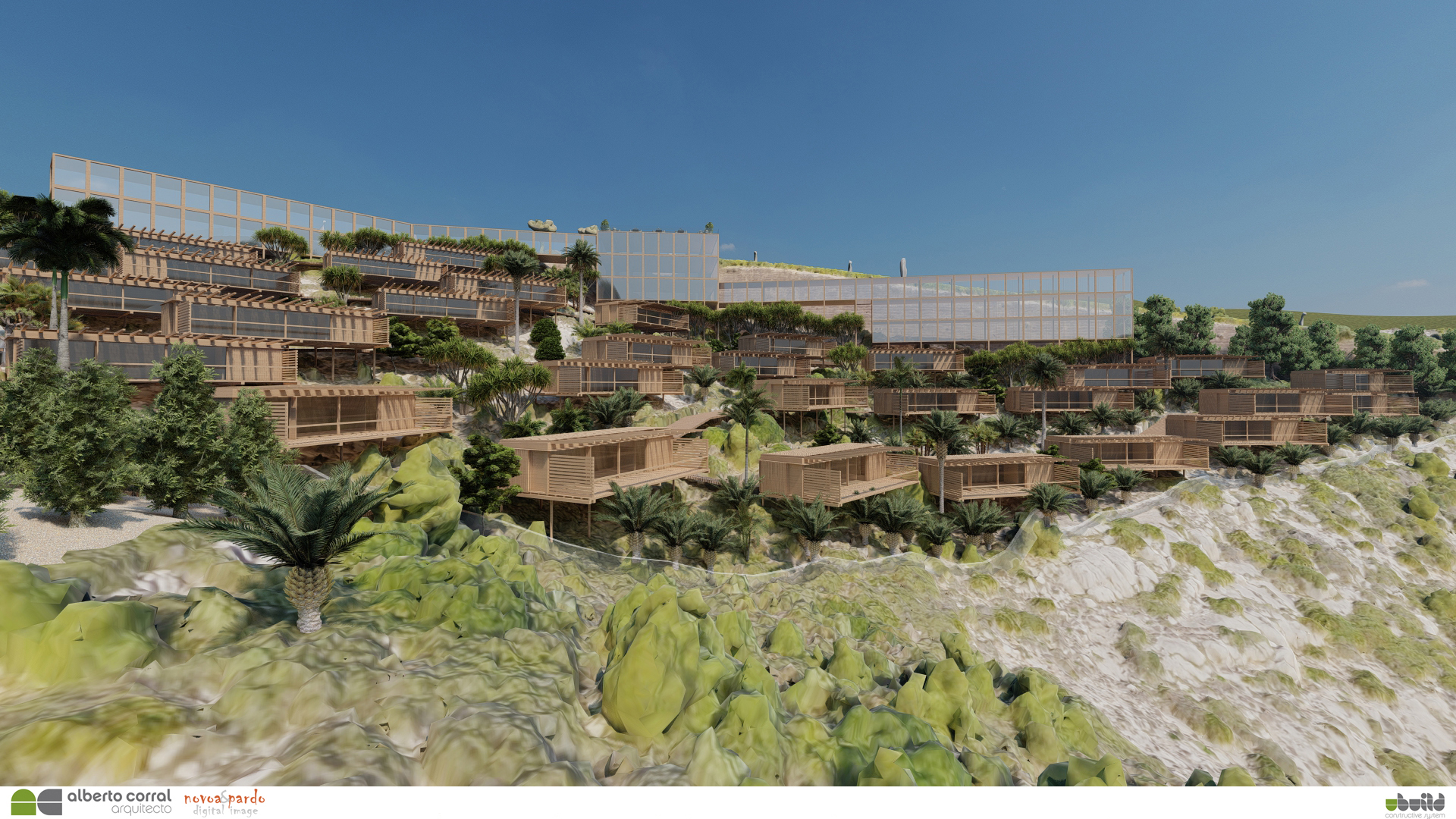 To avoid a massive image of the volumes, they are raised above the ground and vegetation is planted both on the sides and below them. In this way, the set of volumes is smoothed and integrated into the environment.
The consequence of this way of organizing and fragmenting the volumes is that the performance on the slope loses strength, integrating better into the landscape, reflecting the original topography of the slope and recovering part of the vegetation of the place.

The lower part of the plot would be used to plan outdoor activities for the clients of the tourist complex. Although it is not reflected in the images, the idea would be to create wooden paths and platforms that would be integrated into the terrain without altering it.
Water management would be used to create an artificial pond at the base of the land. All the gray waters of the tourist complex would go through a circuit with plants that would purify said waters, ending in the pond. In addition, rainwater can be used to complete the water supply. A series of river plants and amphibians would be placed in the pond that would maintain the balance of the water without the need for us to do anything.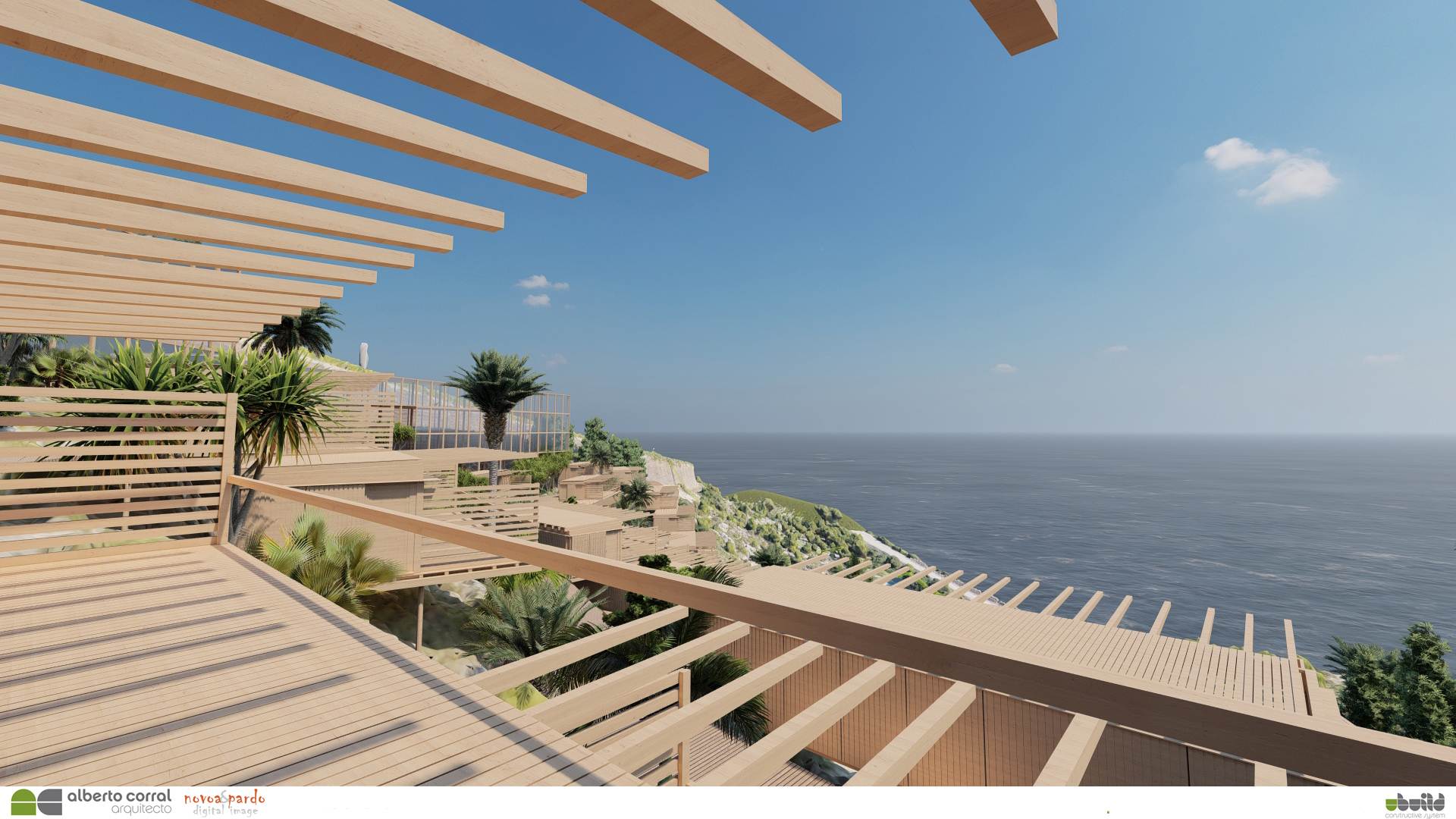 At the moment this is what is proposed in this land on the edge of the Mediterranean. We will see if it has continuity, but as a reflection it has a very interesting result.